Record Level Rainfall Hits Phoenix
A record level amount of rainfall drenches the valley of the sun sending the most rainfall recorded since 1895. Heavy downpours early Monday morning brought freeway traffic to a crawl, closed many surface street intersections and placed the state on a flash flood watch for the rest of the day.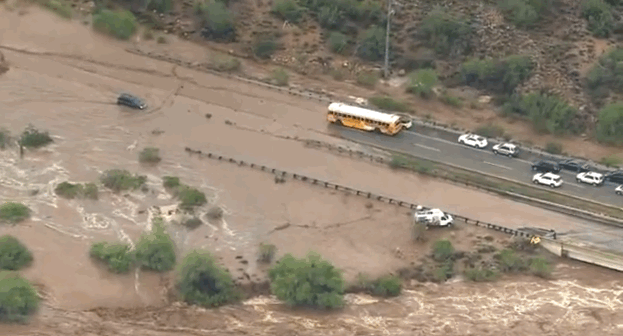 Phoenix Sky Harbor International Airport reported 3.06 inches of rain since midnight, breaking the record for the date by nearly 2 inches, Ken Waters of the National Weather Service said. The National Weather Service extended a flash flood warning until 10:30 a.m. for Maricopa, Pinal and Yavapai counties.
A weather pattern channeled deep moisture associated with former Hurricane Norbert and combined with monsoonal activity to bring the heavy rains, lightning and thunder into Arizona and much of the southwest region, reported Fox News.  All across the desert southwest a large amount of rainfall continues to hit the region. Casting dark skies and many flash flood warnings when children are just getting back to school.
Total Views: 315 ,