Red Flag Flight Simulations to Overlap Jade Helm 15 Exercises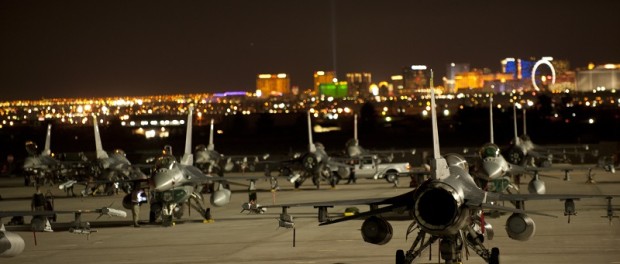 Nellis Air Force Base, Nev., is one of the largest fighter bases in the world. Aircraft from Nellis operate on the Nevada Test and Training Range, which offers more than 15,000 square miles of airspace and 4,700 square miles of restricted land.
More than 75 percent of all live munitions used by the Air Force for training are dropped on the Nevada Test and Training Range.
Many communities in southern Nevada see and hear Nellis aircraft 24 hours a day, seven days a week. From 100 feet above the ground to twice the speed of sound, Nellis conducts advanced combat training, performs operational test and evaluation, and develops tactics.
Red Flag is the Air Force's premier air-to-air combat training exercise. Participants often include both US and allied nations' combat air forces. The exercise gives pilots the experience of mulitple, intensive air combat sorties in the safety of a training environment.
Jade Helm 15 exercise will involve United States Special Operations Command (USSOCOM) with other U.S Armed Forces units in multiple states, including Texas, Arizona, New Mexico, Utah, Nevada and Colorado.
The USSOCOM claimed "the size and scope of Jade Helm sets this one apart" from previous training exercises, such as Derna Bridge or Robin Sage. Some parts of the operational details have been disclosed, including that there will be 1,200 troops participating, and according to CNN, "mainly Army Green Berets, but also a small group of Navy SEALS and Air Force special operations troops as well as conventional Army infantry." Lt. Col. Mark Lastoria, at an information session for residents in Bastrop, Texas, said the realistic military training helps soldiers adapt to unfamiliar terrain.
In that location, sixty soldiers would take part, including the presence of two Humvee vehicles and a "water buffalo" water tank. Private land offered by residents would be used for the exercise, though he noted they would not be paid for the land or receive a tax break of any kind. Lastoria also claimed $150,000 in revenue would be brought to the area because of food, fuel, and shopping.
There is an increasing concern growing on the internet over these military exercises at how involved will these drills be and will there be any interruption on the daily lives of American people. Some internet conspiracy theorists believe this is not a training exercise but a real drill to rally the people for preparation of introducing a police state. Others think this is training for an upcoming attack on Iran.
Total Views: 343 ,