NASA to Reveal "Surprising" Find on Jupiter's Moon Europa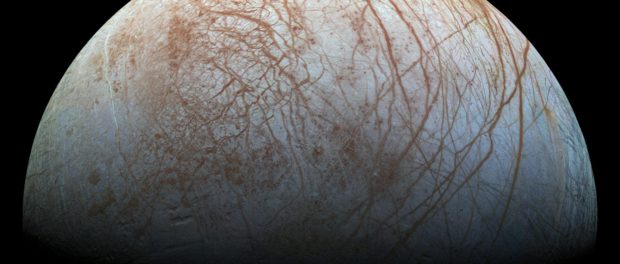 NASA to announce a "Surprising" discovery pertaining to Europa's ocean that maybe life on this icy world does exist.
Europa, is the sixth-closest moon of Jupiter, and the smallest of its four Galilean satellites, and the sixth-largest moon in the Solar System. Europa was discovered in 1610 by Galileo Galilei and was named after Zeus' lover Europa, mother of King Minos of Crete. In addition to Earth-bound telescope observations, Europa has been examined by a succession of space probe flybys, the first occurring in the early 1970s.
Slightly smaller than the Moon, Europa is primarily made of silicate rock and has a water-ice crust and probably an iron–nickel core. It has a tenuous atmosphere composed primarily of oxygen. Its surface is striated by cracks and streaks, whereas craters are relatively rare. It has the smoothest surface of any known solid object in the Solar System. The apparent youth and smoothness of the surface have led to the hypothesis that a water ocean exists beneath it, which could conceivably serve as an abode for extraterrestrial life. This hypothesis proposes that heat from tidal flexing causes the ocean to remain liquid and drives geological activity similar to plate tectonics. 
On 8 September 2014, NASA reported finding evidence supporting earlier suggestions of plate tectonics in Europa's thick ice shell—the first sign of such geological activity on a world other than Earth.[15] On 12 May 2015, scientists announced that sea salt from a subsurface ocean may be coating some geological features on Europa, suggesting that the ocean is interacting with the seafloor. This may be important in determining if Europa could be habitable for life.
NASA will host a teleconference at 2 p.m. EDT Monday, Sept. 26, to present new findings from images captured by the agency's Hubble Space Telescope of Jupiter's icy moon, Europa.
Astronomers will present results from a unique Europa observing campaign that resulted in surprising evidence of activity that may be related to the presence of a subsurface ocean on Europa. Participants in the teleconference will be:
Paul Hertz, director of the Astrophysics Division at NASA Headquarters in Washington
William Sparks, astronomer with the Space Telescope Science Institute in Baltimore
Britney Schmidt, assistant professor at the School of Earth and Atmospheric Sciences at Georgia Institute of Technology in Atlanta
Jennifer Wiseman, senior Hubble project scientist at NASA's Goddard Space Flight Center in Greenbelt, Maryland
Total Views: 5439 ,