Best of Donald Trump Memes
Let's Make the Internet Great Again
As the 2016 Presidential Election is heating up over one year before anyone gets close to the election box, Donald Trump livens things up and people every where are eating it up, and then some.
Donald Trump has endless phrases and quotes piling up in just a matter of months, and many of which have been made into memes that continue to amuse the bored people surfing the internets.
Most of these memes are poking fun at the Donald but isn't that how you know you're popular, and in reality Donald Trump's message is really resignating with Americans fed up with the generic politician.
Since everyone else is writing about Trump, I figured I might as well too. Be sure to scroll all the way down, indulge yourself…
So move over Grumpy Cat, here are just over a dozen of my favorite:
Donald Trump Announces he's running for President.
Donald Trump on Policies…
The pundits respond…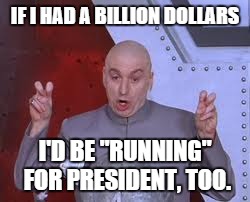 The Media…
My Favorite Quote…
His Promise to America…
If Donald Trump wins in 2016, his acceptance speech would probably sound like this…
Total Views: 5800 ,