Mysterious Life Form Taking Over the Oceans Baffling Scientists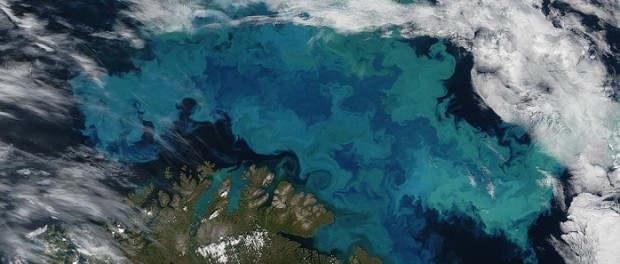 Scientists are baffled by a tiny organism called phytoplankton, which seem to be thriving and teeming in the north Atlantic Ocean.
Experts are concerned as they produce high amounts of carbon dioxide, which could contribute to the greenhouse effect.
Phytoplankton are the autotrophic components of the plankton community and a key factor of oceans, seas and freshwater basin ecosystems. The name comes from the Greek words φυτόν (phyton), meaning "plant", and (planktos), meaning "wanderer" or "drifter".
Most phytoplankton are too small to be individually seen with the unaided eye. However, when present in high enough numbers, some varieties may be noticeable as colored patches on the water surface due to the presence of chlorophyll within their cells and accessory pigments (such as phycobiliproteins or xanthophylls) in some species.
Phytoplankton are photosynthesizing microscopic organisms that inhabit the upper sunlit layer of almost all oceans and bodies of fresh water. They are agents for "primary production," the creation of organic compounds from carbon dioxide dissolved in the water, a process that sustains the aquatic food web.
Watch the Video for more:
Total Views: 1513 ,