Planet X "Nibiru" Revealed on Google Sky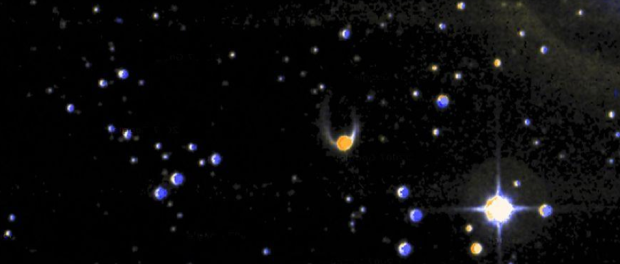 Recently Google sky has revealed a shocking revelation, Planet X or Nibiru is present and it is from information provided by NASA and the ESA.
The Nibiru cataclysm is a supposed disastrous encounter between the Earth and a large planetary object (either a collision or a near-miss) which certain groups believe will take place in the early 21st century. Believers in this doomsday event usually refer to this object as Planet X or Nibiru.
Nibiru (also transliterated Neberu, Nebiru) is a term in the Akkadian language, translating to "crossing" or "point of transition", especially of rivers, i.e. river crossings or ferry-boats. In Babylonian astronomy, Nibiru is a term of the highest point of the ecliptic, i.e. the point of summer solstice, and its associated constellation.
As the highest point in the paths of the planets, Nibiru was considered the seat of the summus deus who pastures the stars like sheep, in Babylon identified with Marduk. The establishment of the nibiru point is described in tablet 5 of the creation epic Enûma Eliš; "When Marduk fixed the locations (manzazu) of Nibiru, Enlil and Ea in the sky". The Enuma Elish states:
Nibiru is [Marduk's] star, which he made appear in the heavens… The stars of heaven, let him [Nibiru] set their course; let him shepherd all the gods like sheep.
This interpretation of Marduk as the ruler of the cosmos has been suggested by some authors to imply an early monotheist tendency in Babylonian religion.
Nibiru is described more closely on a complete cuneiform tablet:
Nibiru, which is said to have occupied the passageways of heaven and earth, because everyone above and below asks Nibiru if they cannot find the passage. Nibiru is Marduk's star which the gods in heaven caused to be visible. Nibiru stands as a post at the turning point. The others say of Nibiru the post: "The one who crosses the middle of the sea (Tiamat) without calm, may his name be Nibiru, for he takes up the center of it". The path of the stars of the sky should be kept unchanged.
5 h 42m 21.0s 22° 36′ 45.7″ These are The Google Sky Coordinates.
Total Views: 1413 ,