Rare Ancient Inscription Found on 3,000 yr Old Pottery in Israel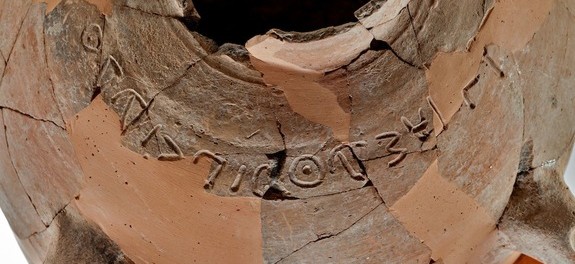 A 3,000-year-old ceramic jar discovered in pieces in Israel has been restored to reveal a rare inscription of the name of a biblical figure and ruler whose reign coincided with that of King David.
The pottery was found in an ancient city overlooking the Valley of Elah, where, as described in the Bible, the legendary David defeated Goliath.
The inscription, the researchers found, read: Eshba'al Ben Bada', who the archaeologists say was likely an important person since his name was inscribed on a jar. (Eshba'al Ben Shaul ruled over Israel at the same time as King David during the first half of the 10th century B.C.)
This newly deciphered inscription, along with three others from the same time period, suggest writing was more widespread in the Kingdom of Judah than previously thought.
See the Video Below for More:
Total Views: 471 ,