ISIS Flags Waved with Pride in Dearborne Michigan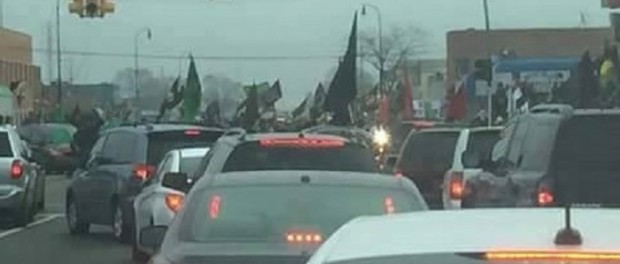 With tensions high in the country between Muslims and others people in Dearborne Michigan were out waving Islamic State flags downtown in some sort of protest.
This photo was posted on social media and made its way swirling across the internet, and has caught the attention of many.
People are on alert after the brutal slaying of 14 in San Bernardino California last week by a husband and wife ISIS team, the anti-Muslim rhetoric is at an all time high in the US following the September 11th attacks. People are wondering if this is just a fluke, or a new trend we may all see across America.
ISIS has made many claims that they will infiltrate the US refugee program to "slay the infidels in their homes."
Whether these are ISIS supporters, or just an enraged Muslim population lashing out feeling that they are being subjugated and targeted.
One poster on Facebook said,"meanwhile in dearbornistan isis & muslim brotherhood flags being waved in public with pride in america - Dearborn, Michigan yesterday at 4:15 p.m. - if you enlarge the pic you can see isis flag on far left black with white circle in it with black writing in white circle."
The city's population includes 40,000 Arab Americans. Arab Americans own many shops and businesses, offering services in both English and Arabic. Per the 2000 census, Arab Americans totaled 29,181 or 29.85% of Dearborn's population; many are from families who have been in the city since the early 20th century. The city has the largest proportion of Arab Americans in the United States. As of 2006 Dearborn has the largest Lebanese American population in the United States.
The Black Banner or Black Standard (راية السوداء rāyat al-sawdā' , also known as راية العقاب rāyat al-`uqāb "banner of the eagle" or simply as الراية al-rāya "the banner") is one of the flags flown by Muhammad in Islamic tradition. It was historically used by Abu Muslim in his uprising leading to the Abbasid Revolution in 747 and is therefore associated with the Abbasid Caliphate in particular. It is also a symbol in Islamic eschatology (heralding the advent of the Mahdi), and it has been used in contemporary Islamism and jihadism since the late 1990s.
This same flag is the iconic flag used by the Islamic State today.
Total Views: 1041 ,