SpaceX Falcon9 1st Successful Launch/Landing on Target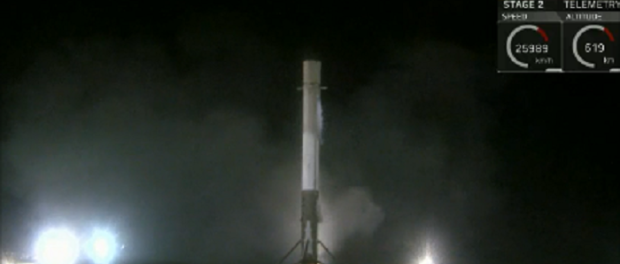 SpaceX successfully launched its Falcon 9 Dragon rocket and it successfully landed back on the launch target making space history.
Several prior attempts by SpaceX in the past had led to disasters in the past with the Falcon9 blowing up in mid air.
This time it was different. (Video Below)
Falcon 9 is a family of two-stage-to-orbit launch vehicles designed and manufactured by SpaceX. The Falcon 9 versions are the Falcon 9 v1.0 (phased-out), Falcon 9 v1.1 (current version, expendable), and the Falcon 9-R (reusable launch system).
Both stages of this two-stage-to-orbit vehicle are powered by rocket engines that burn liquid oxygen (LOX) and rocket-grade kerosene (RP-1) propellants. The current Falcon 9 (v1.1) can lift payloads of 13,150 kilograms (28,990 lb) to low Earth orbit, and 4,850 kilograms (10,690 lb) to geostationary transfer orbit.
The three Falcon 9 versions are in the medium-lift range of launch systems.
Space Exploration Technologies Corporation (SpaceX) is an American aerospace manufacturer and space transport services company with its headquarters inHawthorne, California, USA. It was founded in 2002 by former PayPal entrepreneur and Tesla Motors CEO Elon Musk with the goal of creating the technologies to reduce space transportation costs and enable the colonization of Mars.
It has developed the Falcon 1 and Falcon 9 launch vehicles, both of which were designed from conception to eventually become reusable, and the Dragon spacecraft which is flown into orbit by the Falcon 9 launch vehicle to supply the International Space Station(ISS) with cargo. A manned version of Dragon is in development.

Total Views: 8326 ,