BREAKING: UK Banks Silence Russia's News Network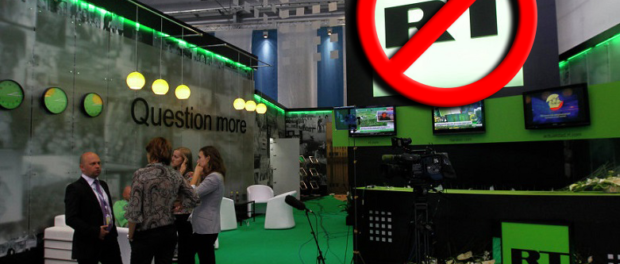 NatWest bank has frozen the accounts of Russia's state-run broadcaster RT, says BBC News.
Margarita Simonyan tweeted: "They've closed our accounts in Britain. All our accounts. 'The decision is not subject to review.' Praise be to freedom of speech!"
An MP from Russia's ruling party has said the country's Parliament will "demand an explanation" from the UK.
RT says the bank gave no explanation for its decision.
It said the entire Royal Bank of Scotland Group, of which NatWest is part, was refusing to service RT.
The broadcaster, previously known as Russia Today, says NatWest wrote to its London office saying: "We have recently undertaken a review of your banking arrangements with us and reached the conclusion that we will no longer provide these facilities."
This comes hours after Julian Assange lost internet service at the Ecuadorian Embassy located in London. Jullian Assange is an Australian computer programmer, publisher and journalist. He is editor-in-chief of the organisation WikiLeaks, which he founded in 2006. He and his team across the globe have been in recent days exposing the Hillary Clinton Democratic US Presidential Nominee and her staffs crimes over the years in a series of leaked emails and documents.
Just before Assange lost internet access, he tweeted a series of cryptic tweets with codes attached to "US Sec. John Kerry" and "UK FCO" leaving many to wonder what this means.
pre-commitment 1: John Kerry 4bb96075acadc3d80b5ac872874c3037a386f4f595fe99e687439aabd0219809

— WikiLeaks (@wikileaks) October 16, 2016
pre-commitment 3: UK FCO f33a6de5c627e3270ed3e02f62cd0c857467a780cf6123d2172d80d02a072f74

— WikiLeaks (@wikileaks) October 16, 2016

US Sec. John Kerry the day before all of this visited London and met with the FCO about talks of a Yemen cease fire.
In London with @BorisJohnson & @UN Special Envoy Ahmed, we call for all parties to implement a ceasefire in #Yemen as soon as possible.

— John Kerry (@JohnKerry) October 16, 2016
Online rumors are running wild that we are on the edge of war with Russia, even Vice President Biden commented recently about a strike against Russia. The Obama Admin is blaming Russia for the recent leaks and claims they hacked the emails related, though there is no evidence proving this latest conspiracy perpetrated by the US Government.

Total Views: 1563 ,