UN Warns Trump Action on Climate Change Unstoppable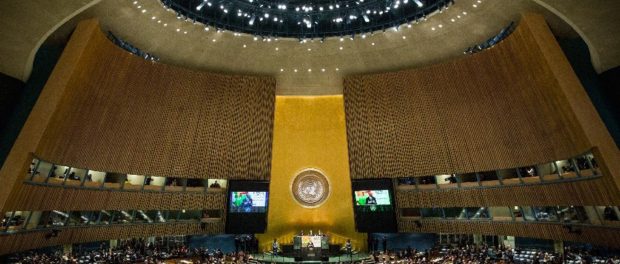 The UN has issued a rare stern warning to President Elect Donald J Trump saying that his campaign promise to drop out of the UN Climate Change Agreement cannot be undone.
France and the United Nations on Tuesday stepped up warnings to U.S. President-elect Donald Trump about the risks of quitting a 2015 global plan to combat climate change, saying a historic shift from fossil fuels is unstoppable.
French President Francois Hollande, addressing almost 200 nations meeting in Morocco on ways to slow global warming, said that inaction would be "disastrous for future generations and it would be dangerous for peace".
Both he and U.N. Secretary-General Ban Ki-moon called on Trump, who has called man-made global warming a hoax, to drop a campaign pledge to cancel the global 2015 Paris Agreement that aims to shift from fossil fuels to cleaner energies.
"The United States, the largest economic power in the world, the second largest greenhouse gas emitter, must respect the commitments it has undertaken," Hollande said to applause. The agreement was "irreversible", he said.
In such U.N. meetings, it is very rare for leaders to single out others for even veiled criticism. Both Hollande and Ban were among the architects of the Paris Agreement.
"What was once unthinkable has become unstoppable," Ban said at a news conference of the Paris deal, agreed by almost 200 governments last year after two decades of tortuous negotiations. The accord formally entered into force on Nov. 4 after a record swift ratification.
Ban said Trump, as a "very successful business person", would understand that market forces were driving the world economy towards cleaner energies such as wind and solar power, which are becoming cheaper, and away from fossil fuels.
"I am sure he will make a fast and wise decision" on the Paris Agreement, Ban said, saying he had spoken to Trump by telephone after his victory and planned to meet him.
Ban, who has made climate change a core part of his 10-year U.N. stewardship ending this year, said climate change was having severe impacts from the Arctic to Antarctica and that 2016 is on track to be the warmest year on record.
Trump has said he wants to boost the U.S. coal, oil and shale industries, abandoning President Barack Obama's plan to cut greenhouse gas emissions by 26-28 percent below 2005 levels by 2025.
The Paris accord, aiming to phase out net greenhouse gas emissions this century, was driven by increased scientific certainty that man-made emissions drive heat waves, floods and rising sea levels.
Ban said that companies including General Mills and Kellogg , states such as California and cities such as Nashville and Las Vegas were working to cut their greenhouse gas emissions.
Trump's victory has overshadowed the Nov. 7-18 Marrakesh meeting, which had opened with congratulations after the entry into force of the agreement on Nov. 4. It now has formal backing from 110 nations including the United States.
Dozens of nations, from Chile to Liberia, reaffirmed support for the Paris Agreement at the talks, with many saying they were already suffering from rising temperatures.
Saudi Energy Minister Khalid al-Falih said that OPEC's biggest producer was "committed to meeting the world's energy needs via the gradual transition towards a more environmentally sustainable future."
"It's a matter of life and death," Zimbabwe's President Robert Mugabe said of tackling climate change, accusing rich nations of often ignoring the needs of the poor. "Let's not squander the Paris Agreement through old bad habits," he said.
We have been told now for almost three decades that man has to change his ways or his fossil-fuel emissions will scorch Earth with catastrophic warming. Scientists, politicians and activists have maintained the narrative that their concern is only about caring for our planet and its inhabitants. But this is simply not true. The narrative is a ruse. They are after something entirely different.
If they were honest, the climate alarmists would admit that they are not working feverishly to hold down global temperatures — they would acknowledge that they are instead consumed with the goal of holding down capitalism and establishing a global welfare state.
Have doubts? Then listen to the words of former United Nations climate official Ottmar Edenhofer:
"One has to free oneself from the illusion that international climate policy is environmental policy. This has almost nothing to do with the environmental policy anymore, with problems such as deforestation or the ozone hole," said Edenhofer, who co-chaired the U.N.'s Intergovernmental Panel on Climate Change working group on Mitigation of Climate Change from 2008 to 2015.
So what is the goal of environmental policy?
"We redistribute de facto the world's wealth by climate policy," said Edenhofer.
For those who want to believe that maybe Edenhofer just misspoke and doesn't really mean that, consider that a little more than five years ago he also said that "the next world climate summit in Cancun is actually an economy summit during which the distribution of the world's resources will be negotiated."
Mad as they are, Edenhofer's comments are nevertheless consistent with other alarmists who have spilled the movement's dirty secret. Last year, Christiana Figueres, executive secretary of U.N.'s Framework Convention on Climate Change, made a similar statement.
"This is the first time in the history of mankind that we are setting ourselves the task of intentionally, within a defined period of time, to change the economic development model that has been reigning for at least 150 years, since the Industrial Revolution," she said in anticipation of last year's Paris climate summit.
"This is probably the most difficult task we have ever given ourselves, which is to intentionally transform the economic development model for the first time in human history."
The plan is to allow Third World countries to emit as much carbon dioxide as they wish — because, as Edenhofer said, "in order to get rich one has to burn coal, oil or gas" — while at the same time restricting emissions in advanced nations. This will, of course, choke economic growth in developed nations, but they deserve that fate as they "have basically expropriated the atmosphere of the world community," he said. The fanaticism runs so deep that one professor has even suggested that we need to plunge ourselves into a depression to fight global warming.
Total Views: 19262 ,