Loretta Lynch Calls for More Anti-Trump Marching and Demonstrations VIDEO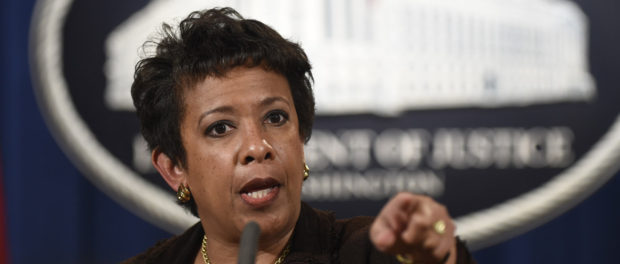 The Former Attorney General appointed by Former President Obama has released a video on Facebook, calling for more marching and demonstrations, to not give up the fight.
Loretta Elizabeth Lynch is an American attorney who served as the 83rd Attorney General of the United States, appointed by President Barack Obama in 2015 to succeed Eric Holder. On November 8, 2014, President Barack Obama nominated her to succeed Eric Holder as Attorney General.
Previously, she held the position for United States Attorney for the Eastern District of New York under both the Clinton (1999–2001) and Obama administrations (2010–15). As U.S. Attorney, Lynch oversaw federal prosecutions in Brooklyn, Queens, Staten Island and Long Island.
She doesn't offer any specifics in the short video but makes a claim that people rights are being stripped and that people have been injured and yes, even killed in standing up against President Trump.
"I know that this is a time of great fear and uncertainty for so many people," Lynch says. "I know it's a time of concern for people, who see our rights being assailed, being trampled on and even being rolled back. I know that this is difficult, but I remind you that this has never been easy. We have always had to work to move this country forward to achieve the great ideals of our Founding Fathers."
Lynch invokes the Founding Fathers as a sorts of 'Call to Arms' to supporters of the Democratic Party and those who are just Anti-Trump.
She goes on to say,
"It has been people, individuals who have banded together, ordinary people who simply saw what needed to be done and came together and supported those ideals who have made the difference. They've marched, they've bled and yes, some of them died. This is hard. Every good thing is. We have done this before. We can do this again."
Since the start of President Trump's term back in January, the DNC has made loose claims of Trump's Administration having contact with Russia, resulting in their Presidential win in November 2016. No evidence of anyone within the Trump Admin having contact with Russian officials has been revealed.
This comes directly after a series of tweets from President Trump claiming that the former Obama Administration had wire tapped then Republican Presidential Candidate Donald Trump's phone lines in Trump Towers located in New York City. This morning Press Secretary Sean Spicer took to Twitter in a series of tweets calling for a formal investigation into the former Obama Administration about the claims President Trump made just the day prior.
President Trump Tweets About Obama Wire Tapping 
(1/4) Reports concerning potentially politically motivated investigations immediately ahead of the 2016 election are very troubling.

— Sean Spicer (@PressSec) March 5, 2017
(2/4) President Trump is requesting that as part of their investigation into Russian activity, the congressional intelligence committees

— Sean Spicer (@PressSec) March 5, 2017
(3/4) exercise their oversight authority to determine whether executive branch investigative powers were abused in 2016.

— Sean Spicer (@PressSec) March 5, 2017
(4/4) Neither the White House nor the President will comment further until such oversight is conducted.

— Sean Spicer (@PressSec) March 5, 2017
On @ThisWeekABC Fmr Atty General Mukasey:I think @POTUS is right in that there was surveillance at the behest of Obama Dept of Justice

— Sean Spicer (@PressSec) March 5, 2017
Over the past few years we have seen a rise in protests and riots incited among the left wing political parties such as Black Lives Matters, Anti-Trump groups are popping up all across the country and are inspired or encouraged by the Democratic Party and in many cases funded by left wing supporters.
Many believe this newest video message from Lynch is an incitement of more violence.
Total Views: 582 ,