Siberian 'Hellmouth' Crater Grows Larger Revealing Prehistoric Forest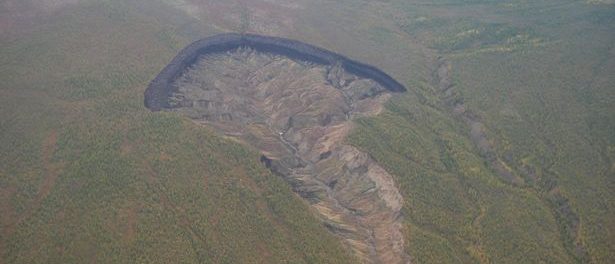 A giant crater in Siberia has been growing larger and feared by the locals in the region. The giant hole also called 'hellmouth' has been growing at a fast rate of 30 feet a year due to climate change experts say.
The Batagaika crater is a thermokarst depression in the form of a one kilometre-long gash up to 100 metres (328 feet) deep in the East Siberian taiga, in the Sakha Republic in Russia.
It is located 10 km southeast of Batagay and 5 km northeast of the settlement Ese-Khayya, about 660 km north-northeast of the capital Yakutsk. The structure is named after the near flowing Batagayka, a right tributary of the river Yana. The land began to sink due to the melting permafrost in the 1960s after the surrounding forest was cleared.
Flooding also contributed to the enlargement of the crater. Archeologists have found ice age fossils buried in the mud around the rim of the crater. The rim is extremely unstable as there are regular landslides into the crater and the permafrost is constantly melting. The crater is currently growing in size.
Watch the Video for More:

Total Views: 11802 ,