Secret Russian Arctic Nuclear Base Revealed VIDEO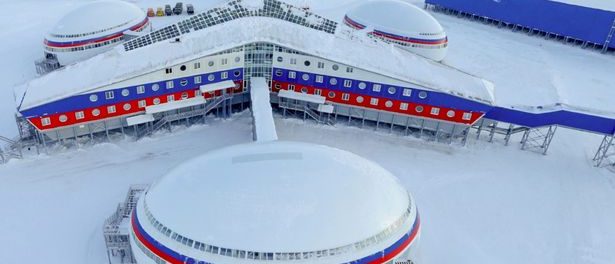 A Top Secret Russian Arctic Nuclear Base has been unveiled for the first time by the Russian Government.
The massive complex comes as Russia's latest pull for dominance over the Arctic region. The new unit will house 150 personnel and is equipped to deliver fighter jets that can deliver nuclear weapons.
There is a massive effort underway which we have not seen since the Cold War era.
Russia asserts its power and spreading its influences over the region because of the huge amounts of natural resources in the icy wastelands.
The Soviet Union , officially the Union of Soviet Socialist Republics (USSR; , also known unofficially as Russia, was a socialist state in Eurasia that existed from 1922 to 1991. It was nominally a supranational union of national republics, but its government and economy were highly centralized in a state that was unitary in most respects. Although each republic had its own communist party, the Union was a one-party state, federal in nature and governed by the all-Union party, the Communist Party of the Soviet Union. The Russian republic was not privileged by law, but the Russian nation was in some respects culturally dominant. The Union's capital was Moscow.
Watch the Video Below:
Total Views: 16796 ,