Kim Jong Un Prepares His Army for War with the US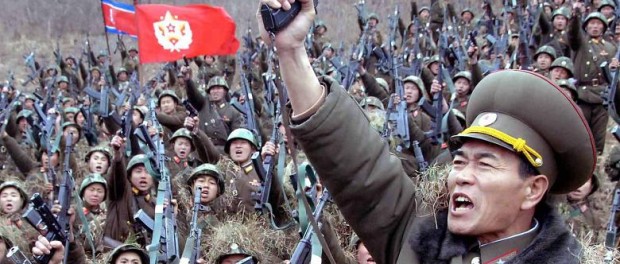 Kim Jong Un, upset over a joint South Korea and US based military defense exercise says he is preparing his Army for war with the United States and South Korea.
It is being reported by state run media that his has informed his troops to "tear the stars and stripes to pieces." North Korea is convinced that this exercise by the US military is not a defense drill, but a practice run to attack North Korea. (See Video Below)
North Korea, officially the Democratic People's Republic of Korea (DPRK; Chosŏn'gŭl: 조선민주주의인민공화국; Chosŏn Minjujuŭi Inmin Konghwaguk), is a country in East Asia, in the northern part of the Korean Peninsula. The capital and largest city is Pyongyang. North Korea shares a land border with China to the north and north-west, along the Amnok (Yalu) and Tumen rivers.
A small section of the Tumen River also forms North Korea's border with Russia to the northeast. The Korean Demilitarized Zone marks the boundary between North Korea and South Korea. The legitimacy of this border is not accepted by either side, as both states claim to be the legitimate government of the entire peninsula.
Total Views: 1153 ,