World's Largest Space Radio Telescope Opens in 2016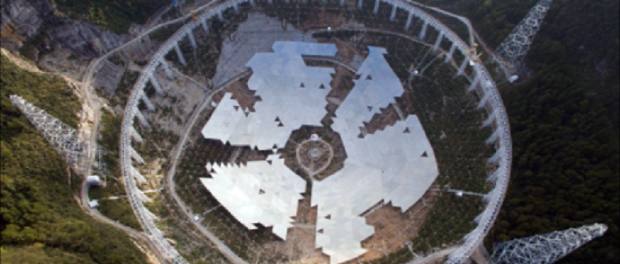 China is on track to open the world's largest space radio telescope in Pingtang, Guizou Providence.
The Five hundred meter Aperture Spherical Telescope (FAST) is a radio telescope under construction located in a natural basin.
Construction on the FAST project began in 2011 and will be complete by September 2016. It will be the world's largest and most sensitive radio telescope and three times more sensitive than the Arecibo Observatory. It will have a cost of 700 million yuan.
It will have 4600 triangular panels and be similar in design to the Arecibo Observatory, utilizing a natural hollow (karst) to provide support for the telescope dish. As the name suggests, it will have a diameter of 500 meters (1,600 ft).
Unlike Arecibo, which has a fixed spherical curvature, FAST will use an active surface that adjusts to create parabolas in different directions, with an effective dish size of 300 m.
This means that it will not be confined to pointing directly upwards, but capable of covering the sky within 40° from the zenith, compared to Arecibo's 20° range. Its working frequency will be 70 MHz to 3.0 GHz, with a pointing precision of 4 arcseconds.
Watch the Video for More:
Total Views: 21343 ,