Scientists Discover Mystic Chemistry of Frankincense Molecule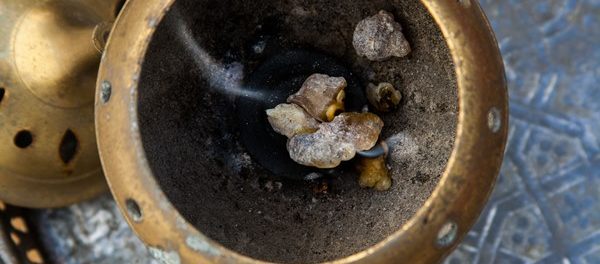 One of the oldest mystic fragrances in the world, frankincense has been revered all over the world as holy and its chemical compound that makes up its unique odor has been unknown until now.
Nicolas Baldovini's team at the Institut de chimie de Nice (CNRS/UNS) has just discovered the components that give frankincense its distinctive odor: two molecules found for the first time in nature, named "olibanic acids" by the scientists.Their research results have just been published online, on the website of the journal Angewandte Chemie International Edition.
Nicolas Baldovini and his team at the Institut de chimie de Nice (CNRS/UNS), which specializes in fragrances, have just succeeded in identifying them for the first time. The chief difficulty lay in finding methods of analysis precise enough to characterize these odorous substances, which are present in the fragrance in very small quantities (a few hundred ppm2), and therefore all the more difficult to detect.
Watch the Video for More:

Frankincense, also called olibanum, is an aromatic resin used in incense and perfumes, obtained from trees of the genus Boswellia in the family Burseraceae, particularly Boswellia sacra and papyrifera. The English word is derived from Old French "franc encens" meaning , high quality incense.
Frankincense is tapped from the scraggy but hardy trees by slashing the bark, which is called striping, and allowing the exuded resin to bleed out and harden. These hardened resins are called tears. There are several species and varieties of frankincense trees, each producing a slightly different type of resin. Differences in soil and climate create even more diversity of the resin, even within the same species.
Boswellia sacra trees are considered unusual for their ability to grow in environments so unforgiving that they sometimes grow out of solid rock. The initial means of attachment to the rock is unknown, but is accomplished by a bulbous disk-like swelling of the trunk. This growth prevents it from being ripped from the rock during violent storms. This feature is slight or absent in trees grown in rocky soil or gravel. The trees start producing resin when they are about eight to 10 years old.


Tapping is done two to three times a year with the final taps producing the best tears due to their higher aromatic terpene, sesquiterpene and diterpene content. Generally speaking, the more opaque resins are the best quality. Fine resin is produced in Somalia, from which the Roman Catholic Church purchases most of its stock.
Frankincense has been traded on the Arabian Peninsula, in North Africa, and Somalia for more than 5000 years.  A mural depicting sacks of frankincense traded from the Land of Punt adorns the walls of the temple of ancient Egyptian Queen Hatshepsut, who died circa 1458 BC.
Olibanum is characterised by a balsamic-spicy, slightly lemon, fragrance of incense, with a conifer-like undertone. It is used in the perfume, cosmetic and pharmaceutical industries.
Total Views: 4577 ,