Large Strange Face Found on Cliffside in Canada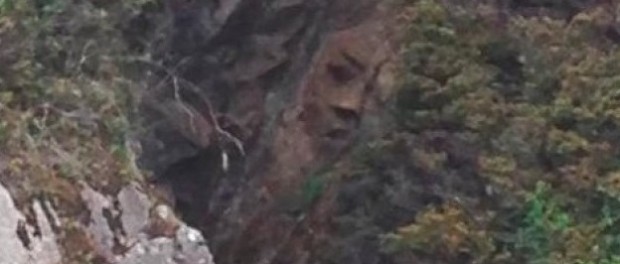 A strange large face made of rock has been found on a cliff side at Pacific Rim National Park Reserve in Canada.
Hank Gus of the Tseshaht First Nation, an aboriginal group in the area, first heard about the "face in the rocks" of Reeks Island, part of the Broken Group Islands, two years ago after hearing a story that a kayaking tourist spotted the face in 2008.
The feature measures roughly about 7 feet long and researchers are trying to determine if the face is a natural formation or man made.
Pacific Rim National Park Reserve is a Canadian national park reserve in British Columbia made up of parks of three separate regions: Long Beach, the Broken Group Islands, and the West Coast Trail. The entire park encompasses 511 km2 (197 sq mi) of land and ocean.
The park is characterized by rugged coasts and lush temperate rainforests. The park is open from mid-March until mid-October. The park was inaugurated in 1971 by Princess Anne of England. At the opening ceremony, a driftwood abstract sculpture by local artist Godfrey Stephens was presented to her by Jean Chretien, the Parks Minister for Canada.
Total Views: 1392 ,