Strange New Planet Found Orbiting in Our Solar System Beyond Neptune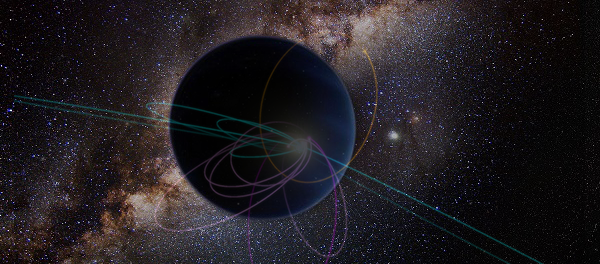 A strange orbiting planet has been discovered just beyond Neptune and this icy world is an interesting dwarf planet. 
Planet Nine is a hypothetical large planet in the far outer Solar System, the gravitational effects of which would explain the improbable orbital configuration of a group of trans-Neptunian objects (TNOs) that orbit mostly beyond the Kuiper belt.
In a 2014 letter to the journal Nature, astronomers Chad Trujillo and Scott S. Sheppard inferred the possible existence of a massive trans-Neptunian planet from similarities in the orbits of the distant trans-Neptunian objects Sedna and 2012 VP113. On 20 January 2016, researchers Konstantin Batygin and Michael E. Brown at Caltech explained how a massive outer planet would be the likeliest explanation for the similarities in orbits of six distant objects, and they proposed specific orbital parameters. The predicted planet would be a super-Earth, with an estimated mass of 10 Earths (approximately 5,000 times the mass of Pluto), a diameter two to four times that of Earth, and a highly elliptical orbit with an orbital period of approximately 15,000 years.
On the basis of models of planet formation that might include planetary migration from the inner Solar System, such as the fifth giant planet hypothesis, Batygin and Brown suggest that it may be a primordial giant planet core that was ejected from its original orbit during the nebular epoch of the Solar System's evolution.
Watch the Video For More:
Total Views: 1853 ,