Sweden's 'Witchcraft Island' Reveals Stone Age Rituals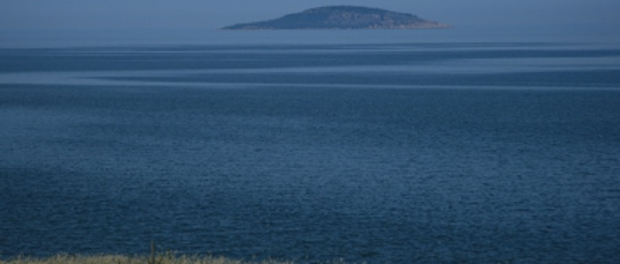 On a small island off the coast of Sweden, lies a mysterious deserted island that is known as 'Witchcraft Island' based on ancient legends.
Now researchers are taking a look at the legends and lore comparing it too man made structures carved from stone. They discovered that stone age man was there on the island some 9,000 years ago. Deep inside caves, they found alters, and even a stage like place underground possibly used in ancient rituals.
The strange island is called Blå Jungfrun ("[the] blue virgin" or "[the] blue maid[en]"), or "Blåkulla" ("Blockula"), is a Swedish island in the Baltic Sea. It is situated in the Kalmar Strait, between the mainland province of Småland and the island province of Öland. Administratively, the uninhabited island is part of the municipality of Oskarshamn and covers an area of approximately 0.7 km2 (0.27 sq mi) with a mean height above sea level of 86 m (282 ft). Home to black guillemots and a Swedish National Parksince 1926, freedom to roam at Blå Jungfrun is limited with visitors prohibited from staying overnight on the island or making fires.
The island consists partly of bare rock with the remainder covered in dense hardwood forest. There are several caves and an ancient stone labyrinth from which it is forbidden to remove stones.
The island plays an important role in Swedish folklore, where it is viewed as an evil and magical place. The name Blå Jungfrun was originally used by sailors to avoid provoking the evil spirits who dwelt on the island. According to a widespread belief, related already by Olaus Magnus in 1555, witches meet there each Maundy Thursday. Carl Linnaeus, who visited the island in 1741, was sceptical:
Women and fairy-tales … generally say that all witches will go here (truly a rather difficult journey) each Maundy Thursday; but those who have visited the place once are not likely to return, and should find out the reason for the fable: If any place in the world looks hideous, this is surely one of the most cruel.
The many water polished stones on the beaches of Blå Jungfrun are illegal to remove from the island because of its national park status. And according to tradition, anyone who steals a stone from the island will suffer from bad luck until it is returned. The town of Oskarshamn yearly receives stones from former Blå Jungfrun visitors, often with an accompanying letter describing misfortunes and disasters which happened to the letter writers after removing them. In May 2004, over 160 such stones were publicly brought back to the island on a ferry from Oskarshamn.
Watch the video for more:
Total Views: 1492 ,