Russian River Turns Blood Red Again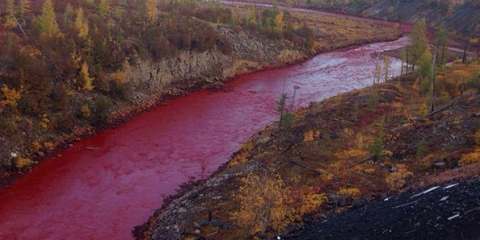 This is not the first time the Daldykan River near Noril'sk Russia has turned blood red.
This may be caused by pollution from nearby metal processing plants. Local residents say this is not the first time they have seen this happen to the river.
Norilsk  is an industrial city in Krasnoyarsk Krai, Russia, located above the Arctic Circle, east of the Yenisei River and south of the western Taymyr Peninsula. It has a permanent population of 175,000. With temporary inhabitants included, its population reaches 220,000.
It is the world's northernmost city with more than 100,000 inhabitants and the second largest city (after Murmansk) inside the Arctic Circle. Norilsk, Yakutsk, andVorkuta are the only large cities in the continuous permafrost zone.
Watch the Video for More:

Total Views: 4368 ,