Ancient Legend of the Mysterious Crocotta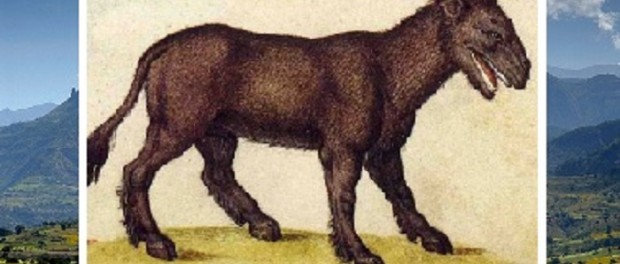 There is an ancient legend of a strange creature lurking on the plains of African and rain forests of India.
The crocotta or corocotta, crocuta, leucrocotta, or yena, is a mythical dog-wolf of India or Ethiopia, linked to the hyena and said to be a deadly enemy of men and dogs.
Strabo, who uses the word crocuttas, describes the beast as the mixed progeny of a wolf and a dog (Geographica, XVI.4.16).
Pliny in his work Natural History (VIII.72 and 107) variously described the crocotta as a combination between dog and wolf or between hyena and lion. Of the hyena, Pliny writes that it "is popularly believed to be bisexual and to become male and female in alternate years, the female bearing offspring without any male," and that
among the shepherds's homesteads it simulates human speech, and picks up the name of one of them so as to call him to come out of doors and tear him to pieces, and also that it imitates a person being sick, to attract the dogs so that it may attack them; that this animal alone digs up corpses; that a female is seldom caught; that its eyes have a thousand variations of color; moreover that when its shadow falls on dogs they are struck dumb; and that it has certain magic arts by which it causes every animal at which it gazes three times to stand rooted to the spot. When crossed with this race of animals the Ethiopian lioness gives birth to the corocotta, that mimics the voices of men and cattle in a similar way. It has an unbroken ridge of bone in each jaw, forming a continuous tooth without any gum.
Pliny (VIII.72-73) also writes of another hyena-like creature, the leucrocotta, which he calls "the swiftest of all beasts, about the size of an ass, with a stag's haunches, a lion's neck, tail and breast, badger's head, cloven hoof, mouth opening right back to the ears, and ridges of bone in place of rows of teeth—this animal is reported to imitate the voices of human beings."
Total Views: 2298 ,